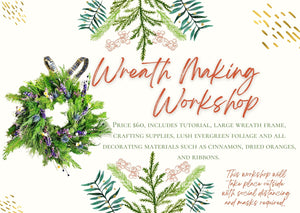 Price $60, includes tutorial, large wreath frame, crafting supplies, lush evergreen foliage and all decorating materials such as cinnamon, dried oranges, and ribbons.
We bloomin' love teaching others to confidently work with all things
flower;
 witnessing our students be proud of their unique creations is one of our favorite things!
Once you have purchased your first order, we will contact you to confirm all the  details, including a date, location, attendees and further payment options. Hooray!